How to Clean a Copper Sink
How to Clean Copper Sinks
Three Methods:
A copper sink adds a gorgeous focal point to any kitchen or bathroom. Whether you want to preserve a polished look or love a natural patina, a little routine maintenance will keep your sink in the best condition. All copper sinks should be washed with warm water, mild dish soap, and a soft sponge. Dry your sink after cleaning or using it to prevent mineral deposits and green spotting. If you want to keep your polished sink shiny, apply a copper cleaner and wax at least every six weeks. To maintain both polished surfaces and those with a patina, avoid harsh cleaners and abrasive scrubbing pads.
Steps
Using Dish Soap and Water for Routine Cleanings
Use a mild dish soap and a soft sponge to clean your sink.

Dish soap, warm running water, and a soft sponge are all you'll need for regular cleanings. Basic, routine cleaning is the same for all copper sinks, whether your sink is vintage, hammered, raw, or polished.

Use only a soft, non-abrasive sponge or cloth. Don't use harsh scrubbers, such as steel wool.

Wipe all sides of the sink with the soapy sponge.

Run warm water from the faucet and use the sprayer to wet the sink. Squirt one or two drops of the dish soap onto the wet sponge. Wipe down the sink with the soapy sponge from top to bottom on all sides.

You should clean your sink daily to keep it in the best shape.

Rinse and towel dry the sink after cleaning it.

Use the sprayer to rinse away soap suds with warm water. After thoroughly rinsing the sink, dry it with a clean towel.

Drying the sink will prevent the formation of mineral deposits and green spotting.

Use a baking soda paste for stubborn stains.

To remove a stubborn mark or stain, apply baking soda to a cloth and, with warm water running, gently scrub the affected area.

If your sink is shiny and polished or finished, you can add vinegar to the baking soda to remove a stain. However, if your sink is vintage or you want to preserve a patina, avoid using vinegar.
Maintaining a Bright, Polished Look
Clean your sink with a copper cleaner every four to six weeks.

If your copper sink is polished or finished and you want to maintain its shine, you should use a copper cleaner at least every six weeks.Apply the cleaner to a cloth, wipe all surfaces, then rinse and dry the sink. Check your copper cleaner's instructions for more specific information about how to use it.

Copper is a living surface that develops a patina over time, but a copper cleaner can help slow the development of patina and preserve a polished look.
Don't use a copper cleaner on a vintage sink or if you want your sink to develop a patina.

Apply a copper protectant or wax to keep your copper shiny.

Using a copper protectant or wax after cleaning and drying your sink will also help preserve its bright, polished look. Depending on your product's application method, spray it onto the sink or apply it with a cloth. Then use a microfiber towel to buff all of the sink's surfaces.

Apply a copper wax or protectant every six weeks or whenever water no longer beads on its surface.
Aside from products specially labelled for copper, you can also buff your sink with carnauba wax to preserve its brilliance.

Use a sink grid or mat when washing dishes.If your copper sink is hammered or has a patina, there's no need to worry about dings or dents from washing dishes, pots, and pans. However, to preserve a polished sink's shine, you'll want to avoid direct contact between your sink and dishware. Place a sink grid or mat down when you wash dishware, and dry wares in a countertop drying rack.
Caring for a Copper Sink
Avoid using harsh chemicals or abrasive scrubbers.

The most important aspect of copper sink care is to steer clear of harsh chemicals and abrasive cleaners or scrubbers. Don't use bleach, lime or rust removers, or ammonia-based cleaners in or around your sink. Stay away from abrasive powdered cleaners like Comet.

Never use scouring pads, steel wool, or any other hard scrubbing pad.

Avoid letting acidic foods or toothpaste sit in a copper sink.

Acidic foods and liquids are harmful to all copper surfaces. Don't let things like tomato sauce or lemon juice sit in your sink, and keep the water running when dealing with any acidic items.

Toothpaste can also discolor copper, so rinse away toothpaste residue after brushing if your bathroom sink is copper.

Avoid leaving pots and pans in your sink for too long.

Putting cookware away as soon as possible will keep any copper sink in the best condition, whether vintage or polished. Dirty pots and pans might contain acidic ingredients that can discolor both patina and polish.

Pots and pans left to dry in the sink can shift positions and potentially leave a dent in a shiny copper surface.

Dry your sink after each use to prevent hard water deposits.

If you have hard water, it's especially important to dry your sink every time you use it. Mineral deposits can be unsightly on both polished copper and surfaces with a patina.

The most accurate ways to determine if you have hard water are to ask your water company or to use a home test kit. You can purchase a kit online or at a store that sells pools, or you can contact a water softener company and ask if they offer free tests.
Community Q&A
Question

Can a chamois be used to safely dry copper sinks?

wikiHow Contributor

Community Answer
Unanswered Questions
How can I remove hard water deposits on a hammered copper sink?
Ask a Question
200 characters left
Include your email address to get a message when this question is answered.
Video: Care and Cleaning for Elkay Copper Hammered Sinks
How to Clean Copper Sinks images
2019 year - How to Clean Copper Sinks pictures
How to Clean Copper Sinks recommendations photo
How to Clean Copper Sinks pictures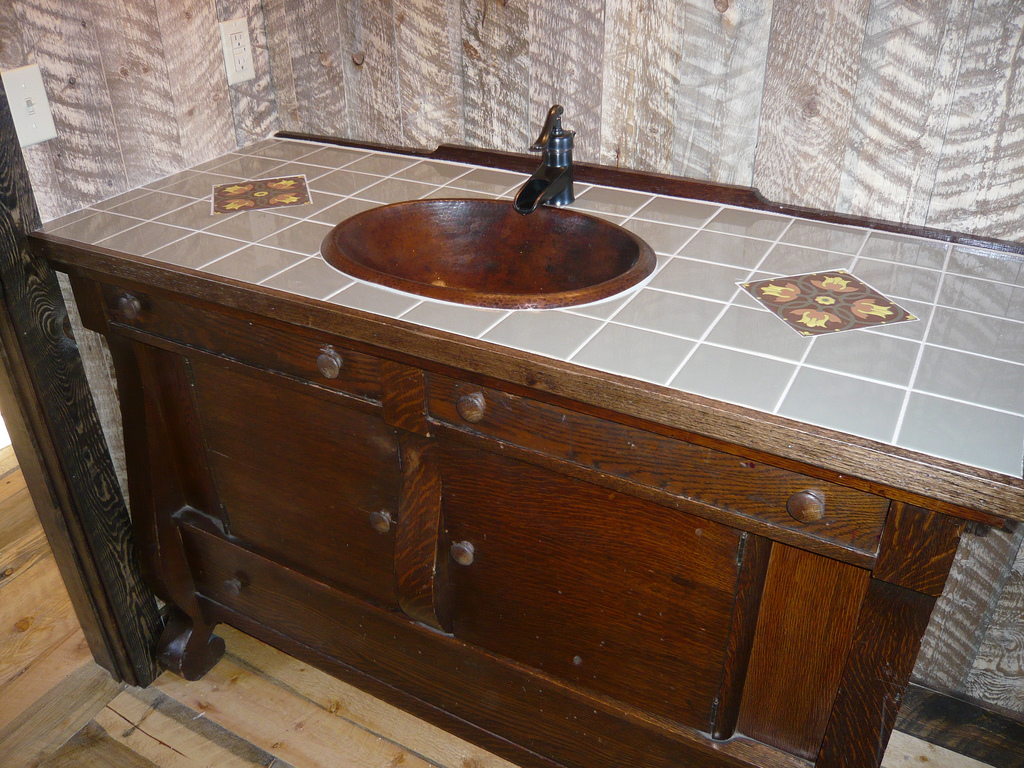 How to Clean Copper Sinks new images
picture How to Clean Copper Sinks
Watch How to Clean Copper Sinks video
Forum on this topic: How to Clean Copper Sinks, how-to-clean-copper-sinks/ , how-to-clean-copper-sinks/
Related News
How Pandora can beat Spotify and Apple Music
What Causes Brain Fog (7 Things You Can Do to Prevent and Stop It)
Uber Is Set To Be Legalised In NSW
Khloe Kardashians brand invented a new size in jeans for women
Lemon Curd and Raspberry Meringue Recipe
How to Stop Keeping up With the Joneses
20 Stunning Peacock Tattoo Ideas For Ladies
Fashion News: Kate Moss, Diana Ross More
How to Feed Puppies
Pixie Haircut with Long Bangs
How to Make Others Be Quiet
6 Clean Foods That Will Boost Your Mood and Beat Stress This Season
Men's Fashion Basics – Part 39 – Eyewear
Date: 19.12.2018, 14:42 / Views: 74164
---