Making your own hanging wardrobe DIY
How to Hang Clothes Without a Closet
Two Methods:
If your house, apartment, or dorm room is short on closet space, then you may need to be a little creative when it comes to storing and organizing your clothes. While some of your clothes can be folded, clothes made out of natural or thin fabrics should be hung up to keep them from getting wrinkled. From wardrobes to garment racks, and from pegboards to tension rods, there are plenty of things you can do to hang and organize your clothes without a closet.
Steps
Creating Permanent Places to Hang Clothes in Your Home
Hang a clothing rod to take advantage of space along the wall.Clothing rods are metal, wood, or plastic bars that you can use to hang clothes, like a rod you would find in a traditional closet. You can always attach a clothing rod to your wall, but you can also buy clothing rods that hang from the ceiling if you want to take advantage of vertical space.

Install some shelf brackets to keep clothes close to the wall.

If you think hanging clothes on a clothes rod would take up too much space, then consider installing some shelf brackets. With a shelf bracket, you can hang clothes hangers parallel with the wall, taking up less space than if you hung away from the wall, like they would on a clothes rod.

To install shelf brackets, decide where on the wall you would like the bracket to be. Hold the bracket up against the wall. The brackets should have several holes in them where screws or nails are supposed to go. Using a pencil, mark where the holes in the bracket are, making sure not to move the bracket.
Set the bracket down, and drill holes through the wall where you made your marks. Drill all the way through the drywall, and then insert a drywall anchor. Drywall anchors are small plastic pieces that provide extra support and hold screw and nails in place.
Finally, line up the holes on the bracket to the holes where you've installed your drywall anchors. Keep the bracket steady while you screw or nail it in place.
Depending on the shape and style of the shelf bracket, you may need to hang it upside down to create a flat place to hang clothes hangers.

Hang a picture rail in a small space.

If you have very little space available or want to take advantage of a really tight space, then hang a picture rail. Picture rails are very thin ledges made out of metal or wood that have a notch in them. This notch is meant to hold up pictures, but you can also use it to hold clothes hangers.

To install a picture rail, first choose where on your wall you want to hang your clothes. Then, mark the spot on the wall where you want one side of the photo rail to end.
Use a level to mark another spot on the wall that is parallel with the first mark. Make additional marks on the wall until the length from the first mark to the last mark is the same length as your photo rail. At each mark, drill a small hole into the wall, and insert a drywall anchor.
Hammer a nail into the wall at each hole where you've inserted a drywall anchor, making sure to leave some of the nail sticking out. Hang your photo rail on the nails, or add more nails if you want to ensure that the rail is well supported.
Hanging Clothes Without Damaging Your Walls
Get a wardrobe to hang and protect clothes.

A wardrobe, also called an armoire, is a freestanding cabinet where you can hang your clothes. They keep clothes out of sight and protect them from light and dust. However, wardrobes can be large pieces of furniture, so if you live in a small space like an apartment or dorm, they might not be right for you.

Would you like even more ways to store your clothes without a closet? Then look for a chifforobe. A chifforobe is a type of wardrobe that comes with built-in drawers as well as space to hang your clothes.

Set up a garment rack in your room.

Garment racks are simple frames made out of plastic or metal, like the racks that stores use to hang clothes. Like a wardrobe, a garment rack is a simple way to hang lots of clothes without a closet. However, garment racks are cheaper than a wardrobe, and they usually take up less space.

Because they are usually small and light weight, you can set up a clothing rack in any part of a room where there's open space, and then move them from place to place.

Utilize a pegboard to hang clothes and accessories on your walls.

You might use a pegboard in a garage or a craft room to keep tools visible and organized, but you can also use one in your bedroom. Hang a pegboard on your wall and then move the hooks around to arrange your clothes and accessories however you would like them.

You can screw or nail your pegboard to the wall using drywall anchors. If you don't wan to or cannot put holes in your wall, you can simply lean it against the wall.
For a more decorative look, you can attach the front of your pegboard to the back side of a picture frame with wood glue and nails, and then hang the frame on the wall.
You can hang jewelry, scarves, bags, and some clothes directly from the hooks. If you're worried about stretching clothes out, then you'll want to use a clothes hanger to hang clothes from the hooks.

Use an over-the-door hanger to store clothes in an underutilized space.

The backsides of doors are a great, out-of-the-way place to store clothes. From single hooks to entire shelving units, there are many different styles and sizes of inexpensive organizers you can use.

Large, singular hooks are a great tool to hang coats, jackets, bags, and anything else that you want to keep within reach.
An over-the-door towel rack is a great way to neatly hang folded jeans and pants.

Place a tension rod between two walls in a corner or in nook.

Tension rods, also called spring rods, are usually used to hang curtains, but you can use them to hold scarves or clothes hangers. If your room has a small nook, alcove, or an unused corner, find a tension rod that is just slightly longer than the length between the two walls. Because tension rods use springs to stay in place, installing and removing tension rods is very simple and easy.

First, press one end of the rod against the wall at the height you would like to hang the rod. This will compress the spring inside of the tension rod.
Guide the other end of the rod up against the opposite wall. Try keep it level with the other end.
Once the tension rod is where you think it should be, slowly let go. The spring inside of the rod will make the rod expand to fill the space and will keep it in place.
To move the tension rod, all you need to do is grab both ends of the rod, and pull them together. This will compress the spring. Now, you can totally remove the tension rod, or move it to a different height.
Are you looking for a way to organize your shoes? You can place two parallel tension rods in an alcove or a corner as a quick and easy alternative to a shoe rack.

Hang adhesive hooks to take advantage of open space on your walls.

Adhesive hooks are a great way to hang all sorts of items without damaging your walls, and you don't need any special tools to use them. There are many sizes of adhesive hooks available, so use smaller hooks for lighter clothes, like shirts and scarves, and use larger hooks to hold heavier clothes, like coats and jeans.

To hang adhesive hooks on the wall, clean the area of the wall where you would like to hang your clothes with a paper towel soaked in a small amount of isopropyl alcohol.
Then, remove the protective strip of paper from the side of the adhesive strip that is supposed to be connected to the hook. Attach the adhesive strip to the hook, and then remove the other protective strip of paper.
Pick a spot on the wall to hang the hook, and then press it firmly against the wall. To make sure the adhesive is working, you may want to hold the hook in place for up to 30 seconds.
Community Q&A
Ask a Question
200 characters left
Include your email address to get a message when this question is answered.
Be creative! Mix and match different ways to hang your clothes to find the right combination of tips and tricks that work for you.
Warnings
As with any home improvement project, use proper precautions when using power tools. Wear protective eye wear and keep your hands, fingers, and hair clear of any drills, saws, or hammers you might use.
Video: How I store my clothes without owning a wardrobe/closet
How to Hang Clothes Without a Closet images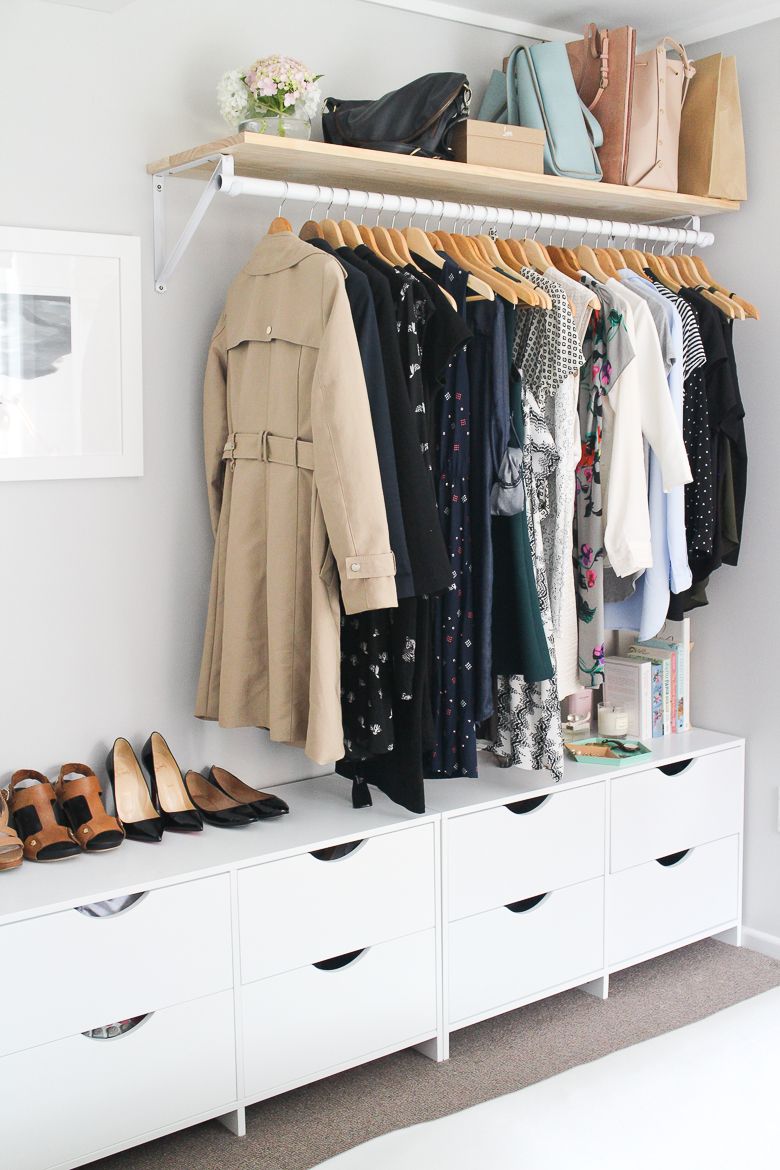 2019 year - How to Hang Clothes Without a Closet pictures
How to Hang Clothes Without a Closet forecast photo
How to Hang Clothes Without a Closet photo
How to Hang Clothes Without a Closet new pics
pics How to Hang Clothes Without a Closet
Watch How to Hang Clothes Without a Closet video
Communication on this topic: How to Hang Clothes Without a Closet, how-to-hang-clothes-without-a-closet/ , how-to-hang-clothes-without-a-closet/
Related News
Shrimp Tabbouleh Salad
8 Best Fat-Burning Foods
Sorry Miley, Twerking' Dates Back To 1820
How to Get Great Skin Like a Celebrity
CaKe: The New Fashion Line of Cara Delevingne Kendall Jenner
Your Summer Workout Plan—Week 2
How to blog about a co-worker (or someone else close to you)
Blackberry, Apple and Lemon Cake Recipe
Nutrition Plays Important Role In The Prevention of Diabetes in Hindi
Walking for Exercise in Pregnancy
Judge Blocks New York Citys Soda Ban
Date: 14.12.2018, 10:05 / Views: 61542
---